Music and movement find their way into the secret places of the soul.

– Plato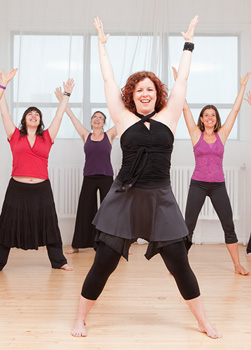 Jennifer teaches Nia in Toronto and internationally through her regular retreats and travels. Nia is an energizing cardio dance fitness practice which creatively blends elements of the martial arts, dance arts, and healing arts. Jennifer gracefully delivers friendly Nia classes that are innovative and sensitive to the varying needs of each individual.  She is experienced in delivering specialized workshops for school-age children, adolescents and women's groups. In addition, Jennifer shares Nia in Toronto through her work as an Artist Educator with the Royal Conservatory of Toronto's Living Through the Arts Program.  She enjoys sharing her enthusiasm and passion for movement and believes that Nia has so much to offer everybody.
I found my groove, my energy centre, and my natural rhythm through Nia. It has introduced me to my essence and given me a way to free my body, express my heart and clear my mind. Through Nia I have been welcomed into a peaceful community where it's ok to be genuine. You see, in Nia, there is no "right" and no "wrong" movement. Nia respects the body's way and encourages me to let my body guide my way. It has taught me to respect and appreciate my uniqueness and has legitimized the creative source that drives me. I enthusiastically embrace the potential for fitness, healing and spiritual development that Nia offers and yearn to share that with all my students. I look forward to dancing with you and helping you find your very own joy of movement at a Nia class in Toronto or elsewhere!  – Jennifer
Click here to read some frequently ask questions about Nia

People are talking about Nia with Jenn!

Jennifer teaches a wonderful Nia class that makes you feel fit, not just physically, but emotionally and creatively. Her classes are more physically challenging than some other teachers'.  I'd also like to add that as a larger woman, I always felt psychologically safe and connected with Jenn as a teacher. There was no negative body talk or appearance based b.s. Just a fun, positive experience. Dierdre Miller, Licensed Professional Engineer

When I arrived at my first Nia class, I had been drawn in by Jenn's spirit and openness. I didn't really know what Nia was, but I trusted that I was meant to explore it. I felt instantly welcomed and comfortable. When the music began I discovered that Nia is a place to find true joy in movement – a place where everyone is encouraged to use their body in a way that feels good. It is also a place to let go and not worry about whether you are getting it right (or left!). Jenn's classes make me feel good in body, mind and spirit.  Janice Cunning, ACC, CPCC. Joy Coach for Fundraisers

Jenn

Hicks is full of energy, enthusiasm, spirit, inspiration and I absolutely love dancing with Jenn. I would dance with her everyday if my schedule allowed.  Nia is an accessible method of exercise that gets into the tough spots with ease, allows you to let go and have fun with exploring movement while having the best time.  Come to a class and try Nia out with Jenn. Perhaps you will be hooked like me – I can't imagine life without Jenn & Nia.  Catherine Friis, Architect

"Jennifer Hicks exudes her love for Nia and for sharing and teaching others. Her professionalism is of the highest level, her energy and joy infectious, and shows by the numbers that turn out for her classes repeatedly. The feedback from anyone who has been led by her is over the top and they always want to know when will she return. Highly recommend Jennifer." Madeleine Marentette Owner, Grail Springs Holistic Wellness Retreat
Jennife

r lead Nia programs at our retreat (Suncokret Body & Soul) on Hvar Island, Croatia. Her enthusiasm, talent and love for teaching Nia radiates from her every pour and is infectious to her students. She is an excellent motivator and capable leader; kind, gracious, fun to be around and very charming. I warmly recommend her services to anyone considering trying out Nia and looking to have a great time while doing so! Evening Lategano, Holistic Yoga Therapist, Writer and Entrepreneur


We recently had Jennifer run a NIA session at our staff retreat. It was wonderful seeing staff connect with each other and  enjoy themselves. I think it is a wonderful way of building a stronger team. M.P., Chief Program Officer, Alzheimer's Society of Toronto

       

Having a party?

                                                           Shop for


       Wellness day?                                                            

  Nia DVDs
       Staff BBQ?
       Include Nia!          

                  
                                                           
       More about Nia at your event…                                         More about Nia DVDs…