Celebrate your next special occasion,
wellness day, staff BBQ or team event
with an unforgettable dance party!
Picture it: you and a group of your favourite people dancing to your all-time favourite tunes at a personalized Nia class facilitated by me. You have the option to create your own play list or use one of the ones listed below.


Nothing says "fun" like the combination of great music,
good people, with a humorous and encouraging host!

Here's what people are saying:
"Jennifer Hicks exudes her love for Nia and for sharing and teaching others.
Her professionalism is of the highest level,
her energy and joy infectious, and shows by the numbers that turn out for her classes repeatedly.
The feedback from anyone who has been led by her is
over the top and they always want to know when will she return.
Highly recommend Jennifer."
Madeleine Marentette, Owner, Grail Springs Holistic Wellness Retreat
*****************
"It was such a pleasure to have you teach Nia to our students yesterday.
The students were excited to share their story regarding had much fun
they had.  You are great at what you do and we hope to have you back one
day soon."  Daniela D, Teacher, Francis Libermann Catholic High School.
*****************
"We recently had Jennifer run a Nia session at our staff retreat. It was wonderful seeing staff connect with each other and  enjoy themselves. I think it is a wonderful way of building a stronger team."  M.P., Chief Program Officer, Alzheimer's Society of Toronto
I LOVE to make people smile and have fun!
Consider hiring me for your next celebration or event:
~ A professional development day
~ A birthday, graduation, anniversary
~ A holiday party
~ A family picnic
~ A beginning/end of year celebration
~ A team building event
~ A wellness event
~ A major life event (i.e., bat mitzvah, bridal shower, stagette, baby shower, divorce, change of jobs/careers)
Dance is a great way to share joy, laughter, create memories and have FUN!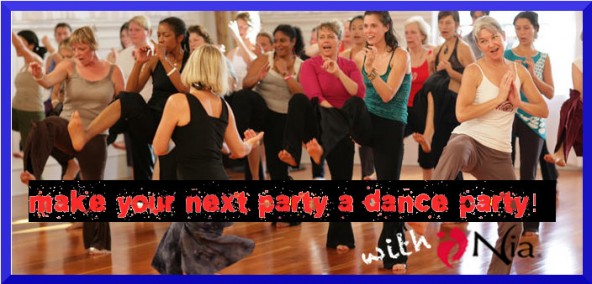 Nia Dance is a great way to:

* Promote comfort among employees
* Build relationships through trust and bonding
* Foster interaction and cooperation
* Promote positivity and confidence
* Reduce Stress
Interested? Great, here's what to do:
Step 1: You have options!
A. Send me your play list.  I can work with any music you adore, so get creative! Consider sending about 10 songs, and let me know if there are songs that ABSOLUTELY must be included (i.e., your very favourites!)
and others that are ok to leave out if time doesn't allow.  Also consider a sending songs of varying tempos (slower vs. faster beats) so that we can have a songs that will really get us moving as well as some that will help warm us up and cool us down.
or
B. You may choose one of the sample play lists I've put together. Have a look at and listen to them here.
or
C. You may choose to have me teach one of your favourite Nia routines. Have a listen to the music here.
Step 2: Contact me
Let me know which option above you're interested, and we'll arrange a date and time for your party. We'll discuss a preferred location as well as cost*.
You can reach me at info@jennhicks.ca or 416.573.4911
Step 3: Organize your event and invite your guests
and leave the rest to me!
Here's what others have told me about their Nia party experiences…
Schön's mom and maid of honour surprised her with a personalized Nia class. After her Led Zeppelin themed Nia class for her bridal shower, Schön said:
"…my pre-wedding dance party (was) an uplifting and memorable event. It was joyful and light, and moved me body and soul."
Elizabeth decided a special birthday required a special celebration! After her Nia birthday party class, Elizabeth said:
"Thank you for the incredible evening. It was truly the most magical birthday ever. You are one gifted lady — I've never felt so loved by others and felt such love for my own movement and body as I did on Wednesday night. Thank you thank you thank you…"
************
*Jennifer's base price for parties (without any travel or special requests) is $350 option for A. (customized choreography with your own musical choices) and $200 for option B. or C.  (choose from my selection of music/choreography or a Nia routine).  These prices include one hour of instruction and the cost of obtaining music if necessary. Studio rental, if necessary, will be an additional cost (of approximately $40, depending on the location).