Nia Move IT classes

I'm cooking up something NEW in my Nia class offerings!
A few weekends back, I had a privilege of studying with Kelle Rae Oien, a Nia trainer based in Santa Fe, New Mexico.
Here's a short video of some of our classes:
That weekend was INCREDIBLY energizing for me.
We studied Nia's 52 Moves and how to use them to create an interval training experience – a new class format called Move IT.
(You can read the technical description of Move IT here).
After the training, we had the option to continue studying via an apprenticeship program.
Based on the conditioning and enlivening fitness feeling I got, I decided to go for it!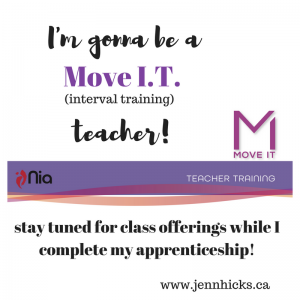 Why I want to teach Move IT
It's such a FUN interval training experience that feels like dancing with a twist!
I feel FRACKING FANTASTIC after a Move IT class
I want anaerobic conditioning (which will give me energy and optimize my aging process)
I want to train my reflexive muscular skills (the ability to move/react without thinking)
I want the challenge of doing something different
I don't want to get injured – I want to continue to respect the body's way (my body 's way) and this is the ONLY interval training program that will do that.
Stay tuned for Move IT classes starting in the coming months!